There are no more excuses not to listen to London's wealth of musical talent.
Reviews and recommendations are unbiased and products are independently selected. Postmedia may earn an affiliate commission on purchases made through links on this page.
Content of the article
There are no more excuses not to listen to London's wealth of musical talent.
Content of the article
The Forest City London Music Hall of Fame has launched its own internet radio station, FCLMA Radio, showcasing London's musical talent around the clock, on its 20th anniversary.
"It's important for what we do," said Mario Circelli, chairman and co-founder of the Hall of Fame, which hosts its annual London Music Week, ending with the awards gala at the London Music Hall on Sunday.
"Here is an opportunity to listen to our artists all the time. We have thousands of songs online. More importantly, it is a method for us to archive our own talent. We are digitizing our artists' tapes, albums and CDs and will be adding new tracks every month. It will be an archive to preserve original music made by Londoners for future generations to listen to.
Content of the article
Royalties will also be paid to artists for their music played on the new radio station, Circelli said.
Anderson Craft Ales' annual release of a Helles beer featuring the images of Hall of Fame inductees was also unveiled on Monday. This year's lineup of beers includes Kittie (for the second time after huge demand last year), drummer Graham Lear, Johnny and The Canadians, folk legend and music producer Paul Mills on a can with John Smales, who owned and operated the folk club Smales Pace. , fiddler JP Allen and The Demics.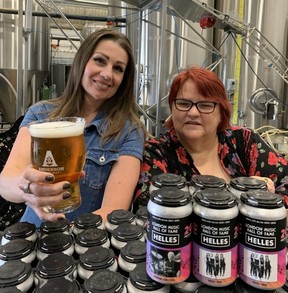 The cans were designed by Darla Stratton, London graphic designer and singer of cover band Swagger.
"People love it, especially the artists," Hall of Fame curator Rena O'Halloran said. "They are all thrilled when they see it. Many of them can't believe it and order cans for family and friends. Music fans seem to like it too.
Content of the article
There is a limited supply of specialty cans, which Anderson also produces for a few other music events, including Sunfest.
"Beer and music go so well together," said Gavin Anderson, president of Anderson Craft Ales. "We love working with local events. It's fun and they're just a great couple.
---
London Music Week continues until Sunday
with several major events including:
Made In London cover and tribute band showcase, Monday-Saturday, Eastside Bar and Grill, 750 Hamilton Rd., with The Deffombs and Full Petty Fever (Tuesday, 8 p.m.), Pepper Jones and The Rockits and Zed (Wednesday, 8 p.m.), Sweetwood Mac (Thursday, 22 h), Geoff Masse Band and Battery Inc. (Friday, 9 p.m.) and Loveless and Rocket Queen (Saturday, 9 p.m.). Admission $10
Rosewood jazz session, Tuesday, 7 p.m., Rosewood Room of the Forest City London Music Hall of Fame, 182 Dundas St., with the Paul Aitken Trio. FREE ENTRANCE.
London Showcase Live, Wednesday, featuring 22 musical acts in 14 venues, with no admission charge. See fclma.ca for schedule.
Battle of the High School Bands, London Music Hall, Friday, 7 p.m. Tickets $5.
SoundCheck for success professional development for newcomers and professionals, Saturday, Digital Creative Arts Center at the Boys and Girls Club of London, 184 Horton St. Visit fclma.ca for more information on workshops, seminars and speakers
Hall of Fame receptionSaturday, 7 p.m., London Music Hall, to welcome new inductees, featuring music from the Graham Lear Trio, Paul Mills and inductee Cherrill Rae
Pop/Rock/Country Awards Gala, Sunday, 7 p.m. London Music Hall, with performances by Bella Rosa, The Pairs, Freddy Almarza, Typo, Aaron and Aimee Allan, Cherrill Rae and the winner of the High School Battle of the Bands. Free