Photo: Cheryl Kramer Kaye
While in the back seat of an Uber, with perfect sunshine, I took the opportunity to check out how the liquid shimmer I had mixed into my moisturizer performed in natural light. I took a selfie, took a quick look, then I jumped on instagram to check the performance of one of my stories (woefully, alas). Just then I had arrived at my meeting, so I put my phone to sleep and jumped out of the car.
The next thing I knew, my notifications were exploding: "Gorg!" "Stunning!" DM'd my friends. I even got a few fire emoji. I had apparently – accidentally – posted a selfie in my stories. No caption, no hashtags, not even my Parisian line-smoothing filter. But my blue eyes were popping against my surgical mask and the skin (which you could see) was gloriously shiny from London's signature liquid highlighter.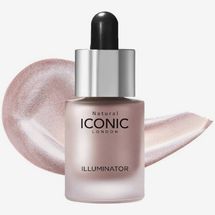 This isn't my first sparkle rodeo: In my twenties, I learned to put a bit of shimmer just at the inner corner of my eyes to make them sparkle. In her 30s, it was all about getting the J.Lo Glow, brushing shimmering bronzer brushes over the self-tanner. But in her 40s, face makeup took a complicated turn: first came contouring and its counterpart, highlighting. Suddenly, we've all been applying war paint in an effort to look perfectly sculpted. Then came the strobe, which was all highlighted, contourless and shimmering settling into every fine line of my face. It was followed by baking, which meant brushes and blenders, a pound of loose powder, and I passed out on the couch as YouTube played tutorial after tutorial. I was on it.
I remember with less fondness the last time I indulged in sparkle, during a photoshoot in my early 40s. I felt absolutely fabulous on set, and when the photos arrived, I showed them to my parents. My father's words: "You look great for a 50-year-old local newscaster." Ouch, dad.
My 50s started simple, with a "natural finish" foundation, a bit of bronzer on my cheeks, and a touch of pink blush on my apples. I let a light ring do the heavy lifting whenever I needed to appear on screen. But then a particularly charming publicist told me I should consider Iconic London's Illuminator. "It's their bestseller because it's so versatile," she told me. "You can put it everywhere." I didn't want to put it anywhere. The only thing I had found highlighter was lines, wrinkles and creases. She began naming celebrities who are fans of the product: the Kardashians (shock); Gigi Hadid (so what); Michelle Obama (okay, I'm listening); Jennifer Lopez. One more sucker for a J.Lo glow, I asked her to send me a bottle. It never arrived, but I was curious enough to go to Sephora and shell out $40.
In the Uber.
Photo: Cheryl Kramer Kaye
The Illuminator comes in four shades: Shine, with a bit of pink; Blush, a warm peachy pink; Glow, a tan-terracotta color; and the Original, in champagne tones (the one I bought). Straight out of the bottle, this stuff is intimidatingly intense, with a foil-like finish. But the instructions told me I could mix it with my foundation, primer, or moisturizer, which seemed less scary. Sitting in front of my lighted vanity, I mixed a few pumps of SkinMedica HA5 (the moisturizer I use as a primer) with a drop of highlighter, I smudged it, smoothed it onto my skin, and looked in the mirror. My skin didn't look like a wrinkled disco ball at all; more like I had been lightly brushed by Tinker Bell. The formula is very concentrated, but it's also so thin that one drop was actually too subtle for me. I took out my foundation, added two drops to it and applied it all over. To my surprise, my skin looked more natural, more alive than without the highlighter. Bold, I applied it – undiluted – to all the places you're supposed to highlight: on the top of my cheekbones, under my brow bone, in the center of my nose and on my cupid's bow. I looked like J.Lo (much older sister, but still felt like myself). I reached out to makeup artist Yolanda Frederick-Thompson to find out why the illuminator worked wonders when so many others had failed. The formula's ability to warm and melt into the skin and its super-fine reflective particles were the secret sauce. While other highlighters can sit on skin, this one feels like your skin.
Instead of making my makeup routine more complicated, the highlighter made it easier. Recently I ran out of my favorite foundation and had to mix random stuff on the fly: a squirt of very pigmented and too dark CC cream, a drizzle from a foundation sample tube of pharmacy, a pump of HA5 and two drops of Illuminator. . You would have thought I was color-matched to the department store counter the way it blended seamlessly into my skin. Whether I'm almost natural or for the full glow, the Iconic London Illuminator makes it all work, every time.
The strategist is designed to surface the most useful expert recommendations on things to buy in the vast e-commerce landscape. Some of our latest conquests include the best acne treatments, rolling luggage, pillows for side sleepers, natural remedies for anxietyand bath towels. We update links when possible, but note that offers may expire and all prices are subject to change.