Sio later – but where?
The Brumbies have included veteran prop Scott Sio in their starting roster this week, but it's still unclear where he'll end up. Salary cap issues at Canberra meant the Brumbies couldn't pay Sio what he was worth, but Rugby Australia is keen to ensure the 64-pound Test remains in Australia for at least another season and is available for a third Cup of the world.
New Force coach Simon Cron is keen to catch Sio, and there's at least one other Australian team in the mix. But playing abroad is also an option.
Meanwhile, six-Test half-back Joe Powell is set to pilot the co-op and become the latest Australian at London Irish. Powell played 75 games with the Brumbies and 27 with the Rebels.
Dismiss the rebels
Everyone else weighed in the Rebels-Force should-they-or-shouldn't-they-have-been kicked out to end the Highlanders game, so consider this.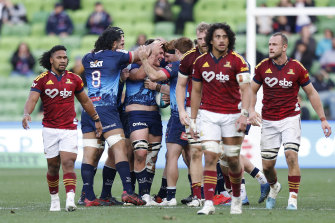 Matt To'omua wanted to keep playing, as did his captain, Michael Wells. The call to kick the ball in and end the game, instead of kicking into the corner and trying to score a try – knocking the Highlanders out of the final and bringing in the Force – came from the sideline and, presumably, coaches. ' box.
The players knew what was at stake and wanted a chance, as much to inflict maximum pain on their opponent and entertain the fans as to give their compatriots a place in the final.
But the coaches also knew what was at stake. It was a low-risk decision to play, but remember the 80th-minute carnage two weeks before, when 90 seconds of madness turned the United's four-point lead Rebels over the Blues in a 33-30 loss. And they were again facing a New Zealand side with a similar ability to go all the way on the counterattack.
Accusations of unsportsmanlike behavior are unfair. The Rebels had every right to secure a hard-fought victory after a difficult season. The Force could have won more games to keep their fate in their own hands, instead of relying on another team to help them.
Rugby Australia Firm on Eligibility
We reported last month that there were players in the Australian super ranks who were concerned about eligibility for upcoming Australia A games, under World Rugby rules. Some players have mixed heritage and more than one option, and fear losing the chance to play at a World Cup for a smaller nation later.
But Rugby Australia is set to take a tough stance on the matter, as all Super Rugby players (excluding imports) sign contracts stipulating they must make themselves available for Australian representative teams. And refusing an Australian A order would be considered a breach of contract. It looks like it won't come to that, and if it did, individual cases would be looked at.
Loading
July is set to see five Australian teams in action: the Wallabies, Australia A, the Junior Wallabies and the two Australian sevens teams. And next week the Wallaroos kick off the Pacific Four series with a clash against New Zealand in Tauranga at 12:45 p.m. Tuesday (AEST). You can catch all of the Wallaroos matches in the friendly tournament – they also play in the US and Canada – on Stan (owned by Nine, publishers of this masthead).
The (toy) story behind the new Super Trophy
This new Super Rugby Pacific Trophy? The one released this week that appears to have a raised collar around the ball? The one that draws comparisons to Doctor Strange and Toy Story villain Zurg?
Turns out blue collar is a wave, with designers aiming to capture the unifying factor of the Pacific Ocean. The significant drinkability factor seems low, but there are rumors that the trophy can be knocked over and in a container.
Watch all matches from Super Rugby Pacific on the home of rugby, Stan Sport. Quarter-finals this week with Crusaders v Reds (Friday 4:30pm AEST), Chiefs v Waratahs (Saturday 2pm), Blues v Highlanders (Saturday 4:40pm) and Brumbies v Hurricanes (Saturday 7:15pm). All streaming ad-free, live and on-demand only on Stan Sports.