Drew Lawrence had four hits in his first Intercounty League baseball game with the London Majors last Sunday in Toronto.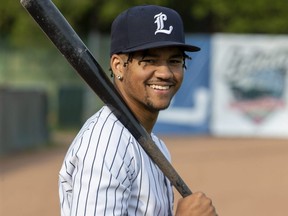 Content of the article
Drew Lawrence had four hits in his first Intercounty League baseball game with the London Majors last Sunday in Toronto.
Content of the article
It may not even have been the highlight of the road trip.
"I had more homers than Cleveland Brownlee in batting practice at Christie Pits," the 18-year-old outfielder joked.
Lawrence's surge of offensive energy hasn't just been a big boost for the defending champions, who will celebrate their past successes in Friday's home opener against Kitchener (7:35 p.m. at Labatt Park). It was also a positive sign that the kid who left a full scholarship at Bossier Parish Community College in Louisiana last season was feeling happy and safe at the diamond again.
"I had a really tough time with my mental health when I was there," he said. "I was not in a good mental state. We sat down and they released me from my eligibility.
Content of the article
He returned home, was welcomed by his parents who found in their son the help he needed.
"It's hard to watch your child go through this," Drew said. "I came home from there and was trying to work on myself and get my head back where I needed to be. I wasn't at all worried about baseball or sports. You have to find people to talk to. I surrounded myself with people that I couldn't talk to about that kind of stuff or maybe I didn't feel like I could.
"The right people want to hear it and help you get better and I was able to find those people."
Lawrence knew he was not alone. Most of the things kids go through when they first leave home have been amplified over the past two years due to pandemic restrictions and lockdowns.
Content of the article
Lawrence's final year in Beal and on the field with the Great Lakes Canadians was greatly affected. He was part of the Canadian Junior National Team and was in Florida in March 2020 when the trip was abruptly cancelled.
In the fall, he would fly to the southern United States to start college.
"It's no surprise with everything they've had to go through," said Chris Robinson, the former big leaguer and current director of baseball operations for the Canadiens. "My kids are younger so for their social time you can throw them in the yard with a buddy or two and they'll be fine. Teenagers are different. They have been missed so much (due to COVID). It's not just athletes, but everyone who has pursued something, they've committed themselves to it. When all that hard work is about to pay off, they get it stolen.
Content of the article
"Suddenly they went to school and they couldn't develop like children did in the past because they were forced to."
Lawrence called the move for the better. The former Badger, who started out in the game with the North London Nationals, has a stable job and a comfortable environment.
When the urge to play baseball returned, he called London general manager and manager Roop Chanderdat.
"I asked him if he had a place in the Majors for me and we came up with something," he said. "Getting those hits was a great feeling in my first game in a while. I was really excited. Roop was really working me on the inside to get in the right field (and not shoot every ball). I was happy to carry my approach to our live (at the bats) well.
There won't always be 4 out of 4 days and Lawrence still faces a huge learning curve playing against men. He also has Jordan Spring, another Beal and Great Lake graduate who attends Bossier parish, on the London roster for support.
Content of the article
"This group of guys, we all clicked pretty quickly," Lawrence said. "It was really intimidating at first, but now it's going well. We are all quite comfortable with each other. It will take time for us to get used to each other on the pitch. We didn't play the best against Toronto and we still did.
"When we play our best, we will be hard to beat."
The Majors are a big enough task at the moment, but another school hit is always a possibility. Former London first baseman Josh Williams and Robinson help Lawrence on that path when he's ready.
"Just because they're leaving the Great Lake program doesn't mean they're not our guys anymore," Robinson said. "When they are in a crisis, hurt or facing adversity, we tend to be easy texts or phone calls. We engage with them until they no longer need us. .
"Drew is a great player and he is in his element on the pitch. We all know that often the easiest part is the game."
---
SUMMER MAJOR SPECIAL
(All home games at Labatt Park)
Season Opener/IBL Title Celebration 2021: Friday, 7:35 p.m. c. Kitchener
Night by Fergie Jenkins: Friday, June 3, 7:35 p.m. c. Toronto
11th edition Pack the Park: Sunday, June 19, 1:05 p.m. c. Barrie
canada day: Friday, July 1, 6 p.m. c. Barrie