Needing 249 to secure their third win in four games, Steven Croft's side hit their mark with exactly five overs to spare.
Old Trafford: Worcestershire 248-9, Lancashire 249-4 – Lancashire win by six wickets
Scorecard
Lancashire returned to the top of Group B of the Royal London Cup on Wednesday night as they secured a comfortable six-wicket victory over Worcestershire at Emirates Old Trafford.
Needing 249 to secure their third win in four games, Steven Croft's side hit their target with exactly five overs to spare, with in-form Rob Jones making 85 unstretched, his second consecutive fifty and best cricket score of List A. Worcestershire, on the other hand, have now lost all four games and their chances of reaching the round of 16 in this competition are already slim.
In the early exchanges of the afternoon, Worcestershire fly-half Azhar Ali and Taylor Cornall put in 48 for their side's first wicket before Ali was caught long-legged by Jack Morley for 29 when he beat Danny Lamb.
However, by then Lancashire's bowling options had been reduced by Washington Sundar's shoulder injury in a mid-term diving stoppage and Worcestershire's hopes were further boosted when Gareth Roderick set up fast and clipped Danny Lamb off his toes for a six. in the last building site of Old Trafford.
Unfortunately for the visitors, Roderick was batted and kicked by Morley for 30 and Lancashire struck another blow when Cornall, having reached his first half-century of county cricket with 79 without hitting a boundary, was played by Luke Wells for 58 trying to cut a ball that spun past the angled bat.
That wicket left Worcestershire at 131 for 3 in the 30th and ten minutes later Jake Libby was brought down by Lamb for 12. Ed Barnard became the third batsman to deflect the ball into his stumps when his Hurt out attempt failed. caught only the bottom edge, but by then Kashif Ali had hit Wells for two side-paws and stroked Lamb deep into the stand at the Brian Statham End.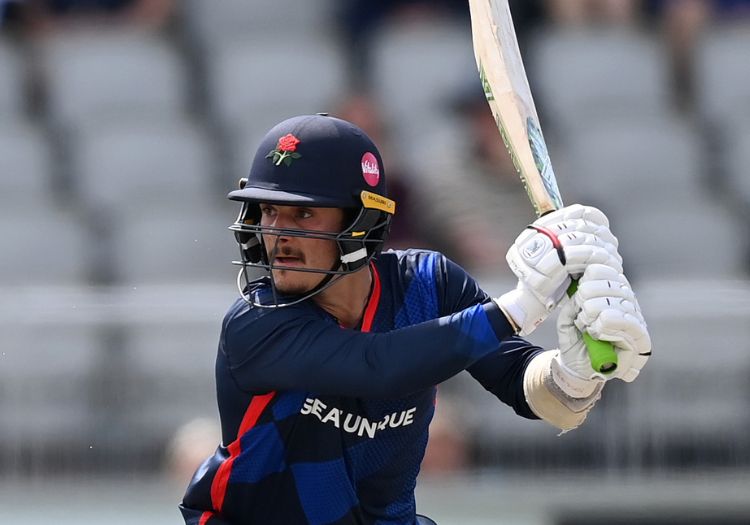 Rob Jones took 85 steps for Lancashire (Gareth Copley/Getty Images)
Ben Cox took his lead on Kashif's strokeplay and the pair added 44 in under seven overs only for Wells to retire both Cox for 24 and Joe Leach for a single within seven balls. Those dismissals robbed the later stages of the Worcestershire innings of some of their momentum, but Kashif hit his fifty on 41 balls and finished ninth in the final on 61 when he hit a full pitch from Tom Bailey directly at the outfielder replacing Jack Blatherwick.
Wells, who took 3 for 42, was Lancashire's most successful pitcher, but their opponents' 248 for 9 looked a competitive total on an unused pitch.
However, the Lancashire openers did their best to make Worcestershire's overall appearance inadequate. Wells and George Balderson put in 76 from 11.4 overs before Wells drove Adam Finch to Leach halfway through and walked away with a 49 from 24 to add to his three wickets.
And once the ex-Sussex opener's salvo had eased the required pace, Lancashire's other top order settled for siege warfare, quietly scoring around six points, knowing that such an acquisition relatively sweet was all that was needed.
The loss of wickets rarely slowed the pace of execution. Although Balderson was caught in cover by Libby for 35 and Steven Croft caught by Cox by Leach for 15, Lancashire reached the halfway point of their innings on 135 for three, well ahead of their demands.
In Washington's absence, Lancashire's batting resources nevertheless seemed a bit meager, but they were only called upon when Lancashire were within thirty points of victory. When he had made 35, Bell gave Libby a second wicket when he skied a catch at short coverage but Jones and George Lavelle brought their team home.
---
Related Topics
Please ensure all fields are completed before submitting your review!