Nations across Europe have moved to reimpose tougher measures to stem a new wave of COVID-19 infections spurred by the highly transmissible variant of Omicron.
Key points:
The Netherlands locked up until next year
Omicron is now the dominant variant of the coronavirus in London
The new variant was detected in 89 countries
The Netherlands has led the way in imposing a nationwide lockdown.
All non-essential shops, bars and restaurants will be closed until mid-January, Acting Prime Minister Mark Rutte said in a hastily-organized press conference on Saturday evening.
In London, Mayor Sadiq Khan highlighted official concern over escalating cases and their potential to overwhelm Britain's healthcare system by declaring a major incident.
The mayor's statement allows local councils in the UK capital to coordinate work more closely with emergency services.
Alarmed ministers from France, Cyprus and Austria also tightened travel restrictions.
Paris has canceled its New Year's fireworks display. Likewise, Denmark has closed theaters, concert halls, amusement parks and museums.
Ireland has imposed an 8 p.m. curfew in pubs and bars and limited participation in indoor and outdoor events.
Omicron found in 89 countries
The World Health Organization said the Omicron variant has now been detected in 89 countries.
COVID-19 cases involving the variant are doubling every 1.5 to 3 days in places with community transmission.
Major questions about Omicron remain unanswered, including how effective are existing COVID-19 vaccines against it and whether the variant produces serious illness in many infected people, the WHO said.
Still, Omicron's "substantial growth advantage" over the Delta variant means it is likely to soon overtake Delta as the dominant form of the virus in countries where the new variant is spreading locally, said the United Nations health agency.
Another Christmas with COVID-19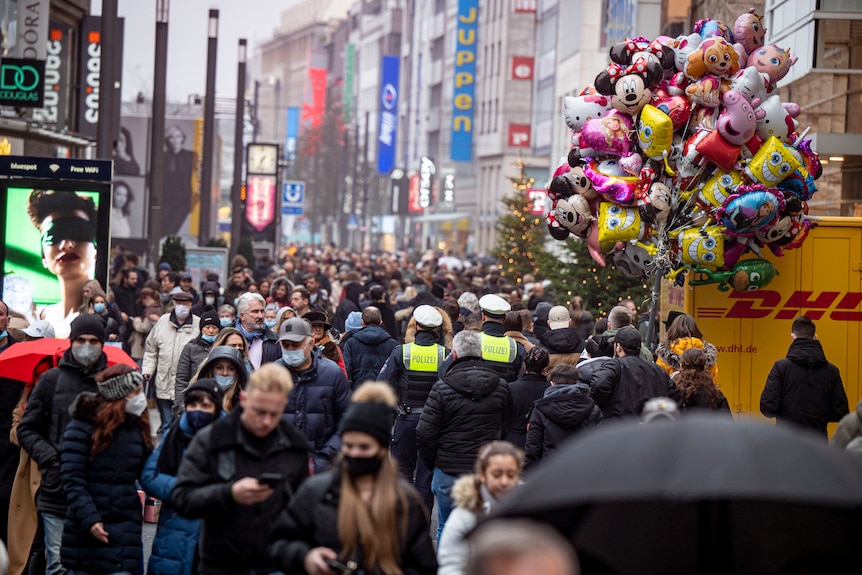 In the Netherlands, not only public places will be affected by the new lockdown.
Residents will only be allowed to have two visitors, except on Christmas and New Years, where four will be allowed, according to Mr Rutte.
In the Netherlands, worst-case shoppers swarmed shopping areas in Dutch towns earlier on Saturday, believing this could be their last chance to buy Christmas presents.
"I can hear the whole of the Netherlands sighing," Mr Rutter said in his lockdown announcement.
The director of the Dutch public health institute, Jaap van Dissel, described the shutdown as a preventive measure that would "buy time" for more people to receive booster shots and for the country's health system to prepare. to a possible new wave of infections.
In the UK, where daily confirmed cases hit a record high this week, the government has reimposed the requirement to wear masks indoors and ordered people to show proof of vaccination or a recent coronavirus test. negative when going to nightclubs and big events.
But the movements provoked anger.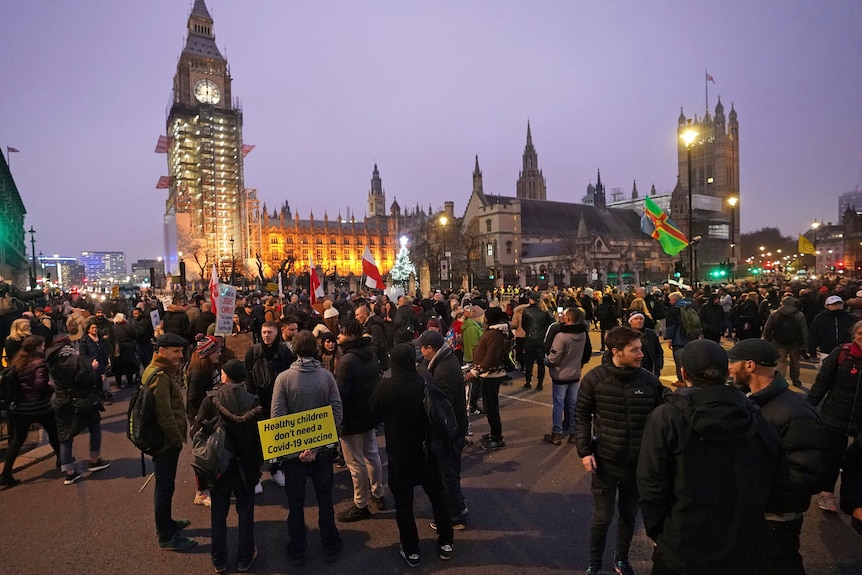 Critics of Britain's Prime Minister Boris Johnson's latest coronavirus restrictions flooded Oxford Street, a popular shopping area in London on Saturday.
Protesters without masks blew whistles, shouted "Freedom!", Told passers-by to remove their face covers and marched with banners showing the faces of Mr Johnson and the UK Health Secretary, accompanied by slogans such as: "Give them the boot."
Scientists are warning the UK government it must do more to prevent hospitals from being overwhelmed. Leaks of minutes from the Science Advisory Panel for Emergencies suggested a ban on mixing and indoor hospitality, the BBC reported.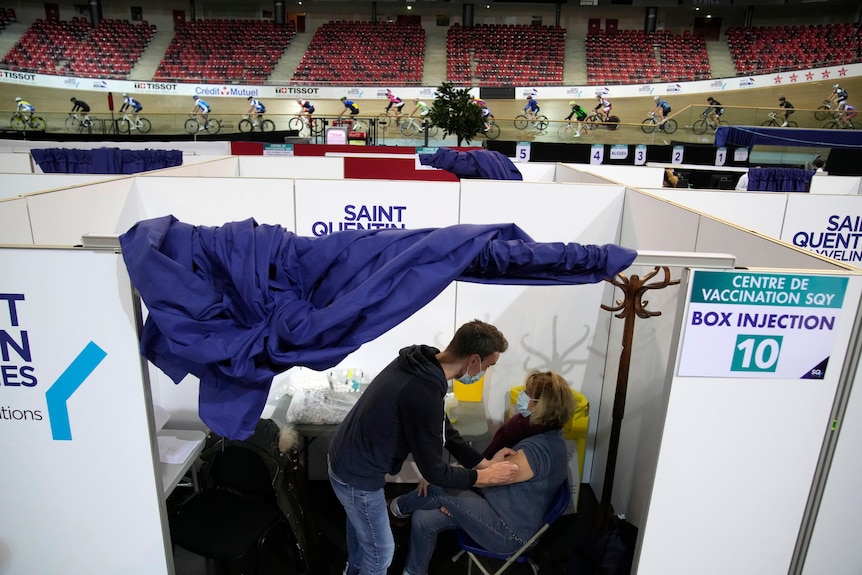 Britain and other countries are also stepping up the pace of booster shots after initial data showed two doses of the vaccine were less effective against the Omicron variant.
Omicron spreads like "lightning"
Omicron is now the dominant variant of the coronavirus in London, and efforts are stepped up to reach people who have not yet been vaccinated or boosted.
London Mayor Sadiq Khan said utilities ranging from ambulances to police calls could be hampered by the fast-spreading variant.
In France, the government is starting to vaccinate children aged 5 to 11.
Prime Minister Jean Castex said Omicron was spreading like "lightning".
He said the government will require proof of vaccination for entry into restaurants, cafes and other public establishments. The action requires parliamentary approval.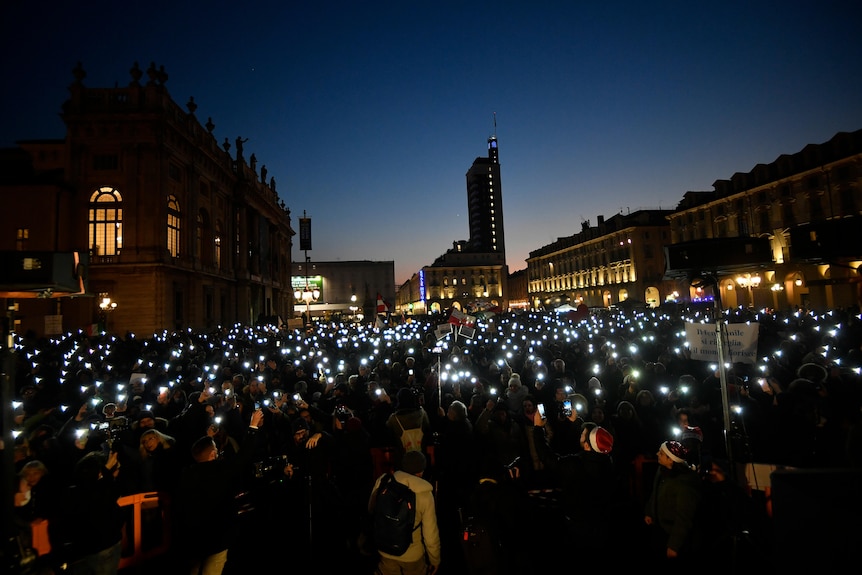 Irish Prime Minister Micheal Martin has said further restrictions are needed to protect lives and livelihoods from the resurgence of the virus.
"None of this is easy," said Martin.
Thousands of opponents of vaccine requirements and mask warrants demonstrated in Hamburg, Berlin and other German cities on Saturday.
In Austria, local media reported that the crowd had reached tens of thousands.
AP / ABC