Content of the article
Brett Brochu doesn't buy Kitchener's outrage that a second-period disallowed goal should have been allowed on Sunday.
Content of the article
Fireplug striker Mike Petizian thought he put Rangers to one in what turned into a narrow 5-3 win in London's fifth game before 7,340 on Sunday at Budweiser Gardens, but the count was eventually called off by the video review because he launched it.
Petizian told the Kitchener press immediately after the call was "embarrassing." Rangers general manager/coach Mike McKenzie called it 'unacceptable' and felt it was impossible for the striker to hit him with anything other than his stick. Brochu, the Knights goaltender, had a different view.
"I was surprised he even got in because he missed it with his stick," the keeper said. "They have a video review so they know what's going on upstairs. It happened pretty quickly and it was a bang-bang game. He was knocked down. It was just the OHL that stepped in and said it had to be canceled.
Content of the article
Knights staff couldn't quite tell what happened based on the video they had immediately available at the ice.
"They (the league) had to zoom in on it," London assistant coach Rick Steadman said. "I looked like I could touch his foot. He turned his foot a bit. It's one of those calls that could have gone either way. They must have a nice view upstairs.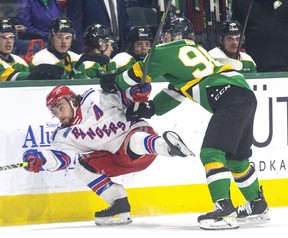 Fifteen minutes after the game, McKenzie appeared to quell his anger over the game. His side face a playoff game at Aud on Tuesday.
"It's just a bad break for us," he said. "That's not going to change now, so just put it in the rear view mirror and be ready to go (3-2 in the series). You have to love playing these games. That's why you play all year – to a home game 6. It's exciting for us to come home and do our best.
Content of the article
The video review was an important part of this back-and-forth affair. London's Ruslan Gazizov thought he had three goals for the Knights in six minutes, but an on-ice goaltender interference was confirmed after Easton Cowan was pushed off Kitchener's Jackson Parsons.
Knights coach Dale Hunter decided to challenge, but lost.
Three minutes after the kicking controversy, Petizian scored again to make it 3-2 and suffered another long review for goalkeeper interference before it was deemed acceptable. So it wasn't exactly one-sided against Rangers.
"They can say whatever they want," Steadman said. "We all have the same officials here."
The Knights jumped early thanks to two openers in Max McCue's first hat-trick in the OHL. The forward said it was his first three-goal game at any level – including minor hockey – and knew captain Luke Evangelista nearly gave him the puck for a fourth in the empty net late.
Content of the article
The unsung McCue scored in Game 4 last Tuesday in Kitchener and is now tied for the series lead in goals with Antonio Stranges and Petizian at four.
"I had a ton of chances in the first three games," he said, "so when I saw that one come into Game 4 it was a great feeling and I kept rolling. We played like it was do or die for us and we don't want to come back (to the Bud) for a Game 7.
"We want to come back for Game 1 (of the second round)."
The Knights limited Rangers to just five shots in the third period, but Brochu had to bail them out with a terrific toe save against Kitchener's Mitchell Martin to keep London ahead.
"I knew he was going to cut," he said. "I had to get off because if he hadn't gotten it or tipped it would have been five holes on me. I'm glad I was able to make this backup.
Content of the article
"Now we have the ball in our court. We haven't let them win twice in a row in any series and that's important to us. »
So does that chance now to keep the fiery Rangers away for good.
---
(London leads the best of seven Western quarter-finals 3-2).
Knights 5, Rangers 3
London goals: Max McCue (3), Antonio Stranges, Sean McGurn
Kitchener goals: Joseph Serpa, Mike Petizian, Mitch Martin
Next: Game 6 is Tuesday at 7 p.m. at Kitchener Memorial Auditorium.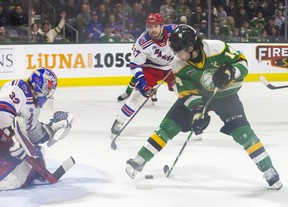 ---
Sunday
At Budweiser Gardens
Knights 5, Rangers 3
(London leads best of seven OHL Western quarter-finals 3-2)
First period
1., London, McCue 2 (McGurn) 1:33
2. London, McCue 3 (Barkey) 5:48
3. Kitchener, Serpa 2 (Valade, Hollett) 8:10
Content of the article
4. London, Stranges 4 (Evangelista, Morgan) 13:43
Penalties – Keane, Ldn (stumble) 11:08, McSorley, Ldn (rough) 14:53, Petizian, Kit (cross check) 16:08.
Second period
5. Kitchener, Petizian 4 (J. LeBlanc, Pinelli) 6:18
6. London, McGurn 1 (Keane, Stranges) 10:32
7. Kitchener, Martin 3 (Rehkopf, Nolet) 13:56 (pp)
Penalties – McGurn, Ldn (rough double-minor), MacKinnon, Ldn, Valade, Kit (10 minute misconduct), Serpa, Kit (rough).
Third period
8. London, McCue 4 (Sim) 18:32 (en)
Penalties – Valade, Kit, Sim, Ldn (10 minute fault) 18:32.
Shots on goal from
Kitchener 11 15 5-31
London 15 17 4–36
Goal: Parsons, Kit (L, 1-2). Brochu, Ldn (F, 3-2).
Power plays (goal chances): Kit 1-3. Ldn 0-1.
Referees – Mike Hamilton, Darcy Burchell. Linesmen – Scott Lawson, David Milne.
Att—7,340.
Stars – 1., Max McCue, Knights; 2. Brett Brochu, Knights; 3. Mike Petizian, Rangers.
---