Mulike most notable restaurants, will polarize customers as soon as they enter. Some will rejoice that it bears the name jazz trumpeter Don Cherry's mu album, and that a small supplement will be added to your bill to pay for the pianist or singer who will start around 7:30 p.m. Others will say, "Why are you taking me to a graffiti-strewn building to eat Japanese-influenced food in a dark jazz club? Was the Café Rouge full?
This latter group may well find mu quite the experience. As I traveled the menu while Dawn Mist by Freddie Redd played on the sound system at the same time as pianist Yohan Kebede of Kokoroko was warming up for his set of the night, I thought of several friends for whom it would be a little corner of paradise. It's a project of brothers Amit and Aneesh Patel, who also run Shiny corners in the nearby town of Dalston and are behind the traveling club/Giant Steps sound systembut at mu, food is also taken seriously.
It would be tempting in a place like this to just offer a menu of boring kebabs, spring rolls and sliders, and hope the audience is too lost in the music to care. But no: mu is a very decent experimental Japanese restaurant with a charcoal grill robatayaki grill that serves flavors of Nikiri-glazed tofu with daikon salad and hake tempura with wasabi and peas.
These two dishes are good examples of mu's reach for high standards. The tofu comes in a generous, almost burnt block, heavily brushed with a sweet soy more commonly used on fish, and accompanied by a pretty but substantial salad of daikon and carrots in a rice vinegar. wafu Pad. It's not a flimsy vegetarian option; it's smoky, assertive and resolutely robust. The hake, on the other hand, is a large serving of white fish in a deliciously light batter, served with mushy peas that have a fiery wasabi undertone. It is the missing link between Ormskirk and Osaka. Someone, somewhere really thought about this stuff.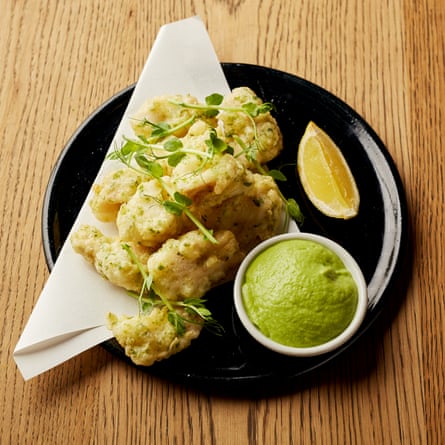 Forgive me for sounding surprised, but I've been to many, many concert halls over the decades, and not once have I woken up the next day bragging about the postmodern playfulness of the conductor's vision. . I can only guess what it's like to eat here when the place is packed for a roaring jazz performance late on a Friday night, as I went on a quiet midweek evening when the large horseshoe bar served his cocktail menu of old classics to a few quiet drinkers and a handful of admirers of the pianist. Under these circumstances mu was much more like a proper restaurant, albeit rather spacious and drafty.
We perused the brief but memorable menu, eating a very good earthy tennis ball of beef tartare with strips of dark green nori to spread it on. The pomegranate yuzu yellowtail sashimi was fresh and appealing, while a slightly less fabulous eggplant, grilled until blackened but with spongy innards soaked in white miso, still went down the drain quickly. . This same powerful grill will sear you a Dexter strip loin topped with caviar or scallop skewers coated with yuzu koscho, that magic chili paste that elevates fish, noodles and even cakes to higher levels. A side of baby gem doused in miso and covered in a thick layer of panko breadcrumbs mocked that leaf as a salad item, turning it into something rich, sweet, and more like pudding. The only negative note was a bowl of dry, dull green speckled fries that claimed to be nori fries but were so indescribable and inconsistent with the rest of the dinner that it was as if they were from a different cuisine.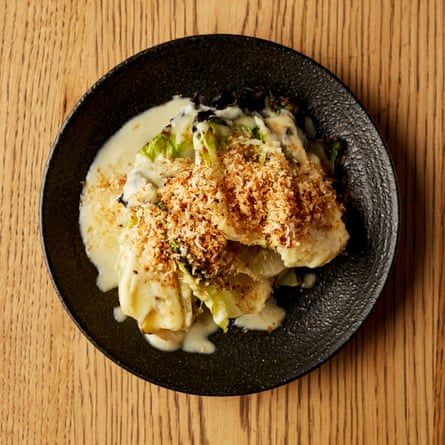 Mu serves only one dessert: crème brûlée. My sworn policy is never to eat pudding at a restaurant that only offers one option, as they obviously want to dissuade you completely from the idea; it's kind of a Jedi spirit trick that a lot of restaurants are doing right now, rather than employing a decent pastry chef. And the custard wot was torched is no one's idea of ​​an interesting pudding; it's what MasterChef contestants do for a quick second course after wasting 90 minutes doing pork five ways.
I can forgive you for that though. The food on this charming, bold and cool musical menu, which really tries to give a platform to young talent and beloved niche artists, is far grander and lavishly executed than it should be. They are not browsing the menu. This is a kitchen that plays with confidence. I'm not the biggest jazz fan, but I know what I know about dinner, and I'm definitely up for a second performance.
me 432-434 Kingsland Road, London E8, 020-7209 4187. Open Wednesday to Sunday 6pm-11.30pm (12.30am Friday and Saturday, 11pm Sunday). Around £40 per person plus drinks and service

The next episode of the fourth series of the Grace's Comfort Eating podcast is released on Tuesday, November 8. Listen to him here.