Keon Edwards didn't hesitate to fire the opening verbal volley at Western's familiar Yates Cup foe.
Content of the article
Keon Edwards didn't hesitate to fire the opening verbal volley at Western's familiar Yates Cup foe.
Content of the article
"Queen's is probably the same team as us," the Mustangs running back said after scoring two touchdowns in a 45-9 Ontario college semifinal against Wilfrid Laurier in windy conditions Saturday.
Content of the article
"We have the same games, do the same things, but I'll say it here, we do it much better than them," he said.
The Gaels beat Ottawa 35-13 at home to set up a rematch for the provincial final next weekend at Western Alumni Stadium. The Mustangs, in the title game for a seventh straight season, beat Queen's 29-0 a year in Kingston and beat them by 24 points in London on September 10.
"We're way better than Queen's," added Western's top defensive lineman Malcolm Hinds. "I love (Gaels head coach and Londoner Steve) Snyder. He brought me here. I don't like this (uniform) yellow. This yellow and this blue don't go well together. Their (offensive) line and I don't have a good relationship.
Content of the article
The first step for the Gaels will be to avoid the nightmarish third quarter that cost Michael Faulds' Golden Hawks a chance. Just five against Western at halftime and with the wind blowing at their back, they fumbled the ball on three straight possessions and then missed a 52-yard field goal try on their fourth.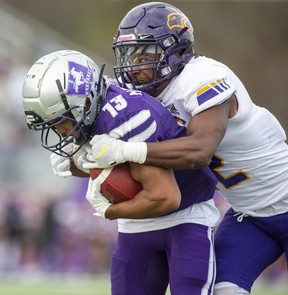 Hinds and fellow D-line Jordan Beland were credited with forced fumbles and recoveries and Banting graduate Johnny Pantazopoulos jumped on a mishandled kickoff return for a special teams dagger.
The Mustangs took those freebies and turned them into quick 17 points to put the game out of reach.
"It was awesome," Western head coach Greg Marshall said. "That kick off was hanging there and you know if it gets dropped chances are it will come back to us. Johnny Pants recovered and it was really amazing we were able to get the ball moving (against the wind).
Content of the article
"We took the time to go slow, milk the clock as much as we could and we knew if we could just get out of the end of the quarter we would be in good shape," he said.
Edwards again drove in for over 100 rushing yards, but the West offense spat out of the gate. Quarterback Evan Hillock threw his first interception of the season on a fly ball that bounced off his favorite target, Savaughn Magnaye-Jones, and Laurier's Shomari Hutchinson returned the pick for a touchdown and an early lead.
"It was tough for Evan to throw that ball upwind," Marshall said. Not a big call. But it's the sign of a great team. A bit of adversity, you don't panic and just walk out and that's the next piece.
Content of the article
Until they started the ground game late, Western relied on their plugs. At halftime, defensive coordinator Paul Gleason rounded up the group and told them to step up.
They harassed Golden Hawks quarterback Taylor Elgersma at every turn, got unblocked shots on the London Oakridge graduate and held him to a meager 52 yards on 8 of 17 passes, plus a Rob Panabaker interception . Laurier's offense couldn't generate a single touchdown or field goal while star receiver Ethan Jordan was a non-factor with three catches for six-under.
"I feel like our defense has been solid all year," Hinds said. "I think it's going to be scary (good) the next few weeks. I feel like a lot of people are trying to test us, hitting the ball at us and trying to throw it.
Content of the article
"I don't think they respect us enough. We look forward to Queen's. I hope they bring their best game because we are going to bring ours," he said.
OUA FOOTBALL
– West 45, Wilfrid Laurier 9
– Mustang touchdowns: Keon Edwards (2), Jackson White, Edouard Wanadi, Troy Thompson
– Golden Hawks touchdown: Shomari Hutchinson
– Next: The Mustangs (9-0) take on Queen's (9-1) in the Yates Cup title game on Saturday at 1 p.m. at Western Alumni Stadium.
GAME STATS
At Western Alumni Stadium
first quarter
WLU – Single 5:48
WLU – TD Hutchinson 36 interception return (Hodge kick) 6:51
WES–FG Garrity 28 11:11
WLU – Singles 12:19
second quarter
WES – TD White run 1 (Garrity kick) 2:10
WES – Single 2:12
WES–FG Garrity 6:10
Third quarter
WES – TD Wanadi run 2 (Garrity kick) 5:49
WES – TD Edwards run 9 (Garrity kick) 8:01
WES–FC Garrity 11 12:25
Fourth trimester
WES – TD Edwards run 2 (Garrity kick) 9:22
WES – TD Thompson run 35 (Garrity kick) 12:06
Score per quarter
WLU-9 0 0 0 (9)
WES – 3 11 17 14 (45)
Individual
Rushing: WLU – Scott 18-97, Nelmes 4-22, Hodge 1-12. WES – Edwards 24-136, 2 TD, Wanadi 16-68, TD, Thompson 2-31, White 3-6, TD.
Passing: WLU – Elgersma 8-17, 52 yards, 1 INT. WU: Hillock 12-19, 139 yards, 1 INT.
Reception: WLU – Thorne 3-4, Petermann 1-7, McAlpine 1-5. WU: Magnaye-Jones 7-93, Robertson 2-30, Edwards 1-13.
Discover our sports section for the latest news and analysis. Fancy a bet? Head to our sports betting section for news and ratings.