King Charles lands in Northern Ireland
King Charles and the Queen Consort have arrived in Belfast for their visit to Northern Ireland.
The trip marks Charles' first trip to Northern Ireland as king. The King will meet representatives of Sinn Fein, the Irish nationalist party with historical links to the IRA, to show how relations have evolved since the height of the Troubles.
Members of the public could be seen lining the streets of Belfast and outside Hillsborough Castle awaiting the King's arrival.
Mourners in Northern Ireland await King Charles
Crowds of people lined the streets of Belfast and outside Hillsborough Castle in Northern Ireland on Tuesday morning as they awaited the arrival of King Charles and the Queen Consort.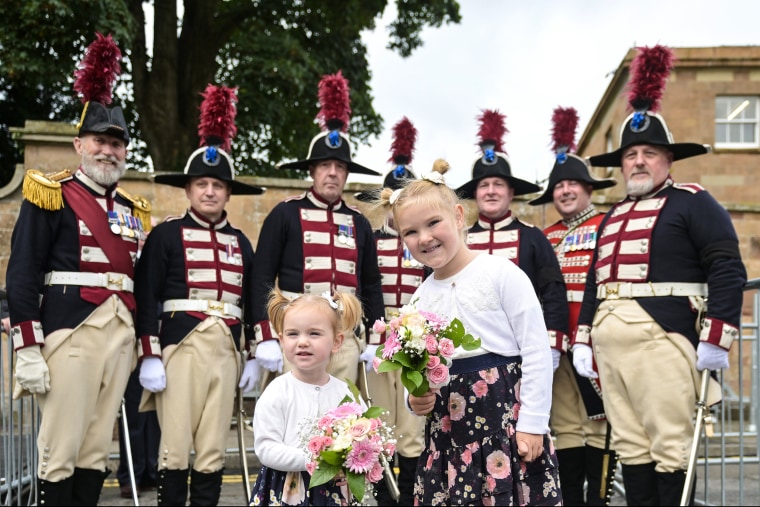 Charles will visit Northern Ireland for the first time since ascending the throne following the Queen's death. He is expected to travel to meet political leaders, receive condolences and attend a prayer service during the visit.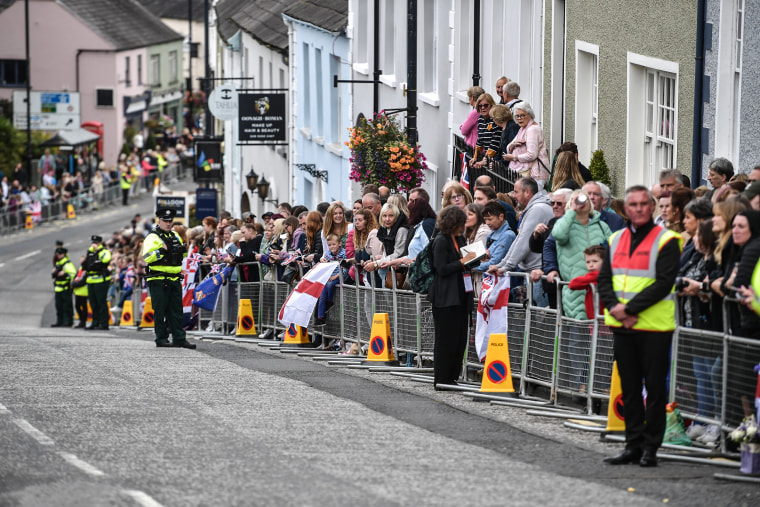 What will happen to the floral tributes after the Queen's funeral?
Mourners hoping to leave floral tributes to the Queen are asked to remove all wrappings and place them in the gardens allocated to Green Park and Hyde Park, according to Royal Parks, the charity that runs the Royal Park in London.
Flowers left outside assigned areas, such as at the gates of Buckingham Palace, will be moved to the specified area if they are in good condition, the charity said. Tributes that have deteriorated will be transferred to the nursery in Hyde Park to be turned into compost, according to its website.
The tribute areas will remain until all ceremonies have taken place and are expected to be removed within 14 days of next Monday's funeral.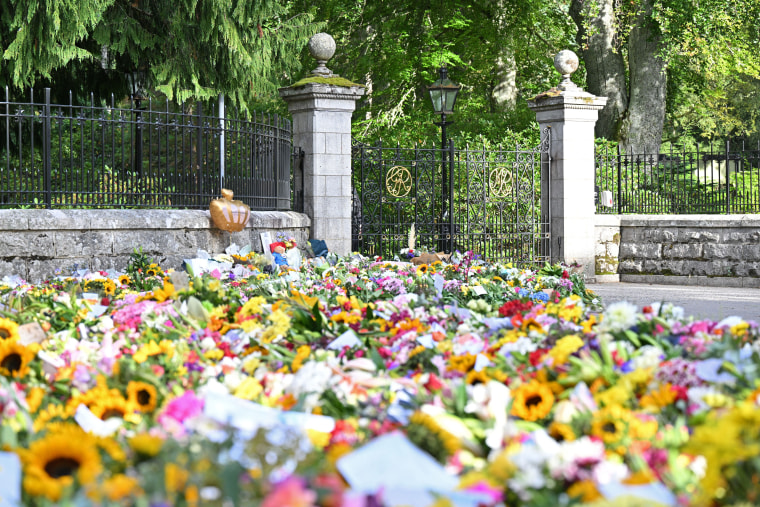 'It doesn't matter if you're a royalist or not,' mourners say
Brothers Cameron and Reece Wilkins, and their cousin Calvin Wilkins, all carpenters working at a nearby site, were undeterred by the prospect of waiting hours to pay their respects to the Queen.
"We're supposed to be working, but we wanted to come see this piece of history," said Calvin Wilkins, 25. "It doesn't matter if you're a royalist or not, she was the longest serving monarch so that's something you have to see.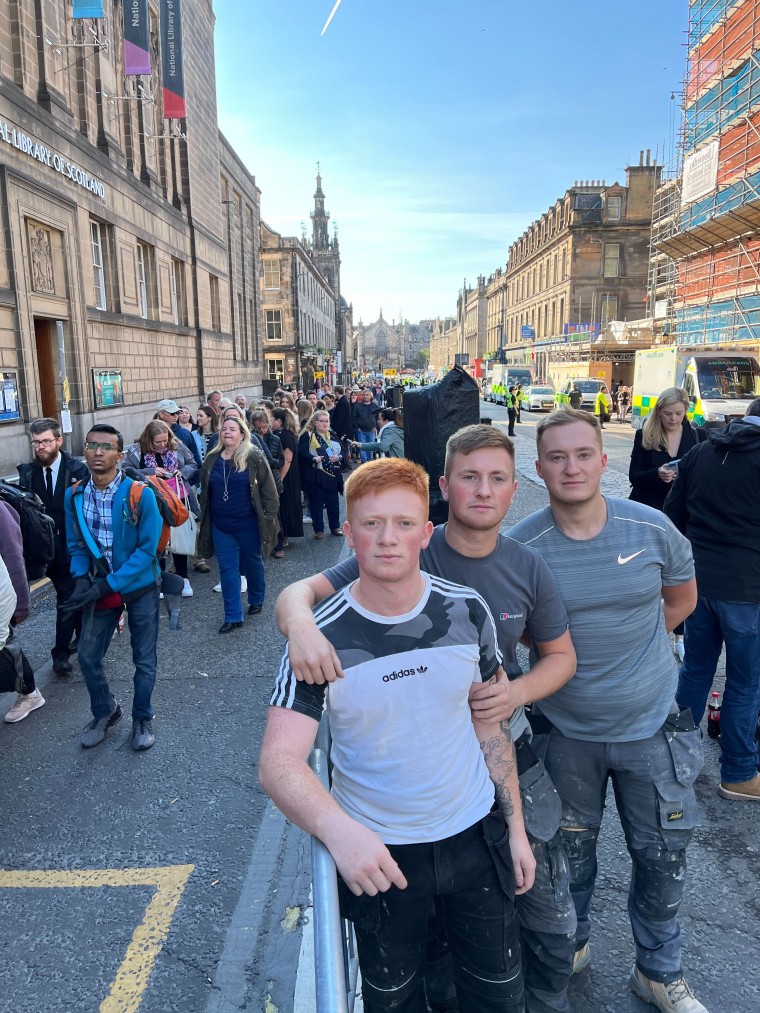 'Succession' Creator Jesse Armstrong Gets Mixed Response After Emmys Joke About Charles' Rise
The writer of HBO's hit "Succession" series, Jesse Armstrong, appeared to joke about the rise of King Charles during his Emmys acceptance speech on Monday.
"Big week for estates, new king in the UK, this is for us. Obviously a few more votes involved in our victory than Prince Charles," said Armstrong, who is British, under a mixture of laughter, boos and cheers.
Scottish actor Brian Cox, who was also on stage, could be heard saying 'stay royalist' following the writer's comments. Armstrong then appeared to walk back his comments. "I'm not saying we're more legitimate in our position…we'll leave that to other people."
"Succession" won Outstanding Drama Series at Monday's Emmy Awards.
'It was a good vibe,' mourner says of 5 hour wait to pay homage to Queen
Mandy Mitchell waited in line for five hours on Monday evening, finally seeing the queen's coffin at 1:30 a.m. (8:30 p.m. ET Monday).
"A steward told us it was going to be 12 so in that respect it wasn't too bad," said Mitchell, who came with her husband from St. Andrews.
"It was a good atmosphere, everyone was chatting, having coffees at a Salvation Army stand that had been set up," she added, referring to the Christian charity. "There were portaloos and later we got fries from the kebab shop."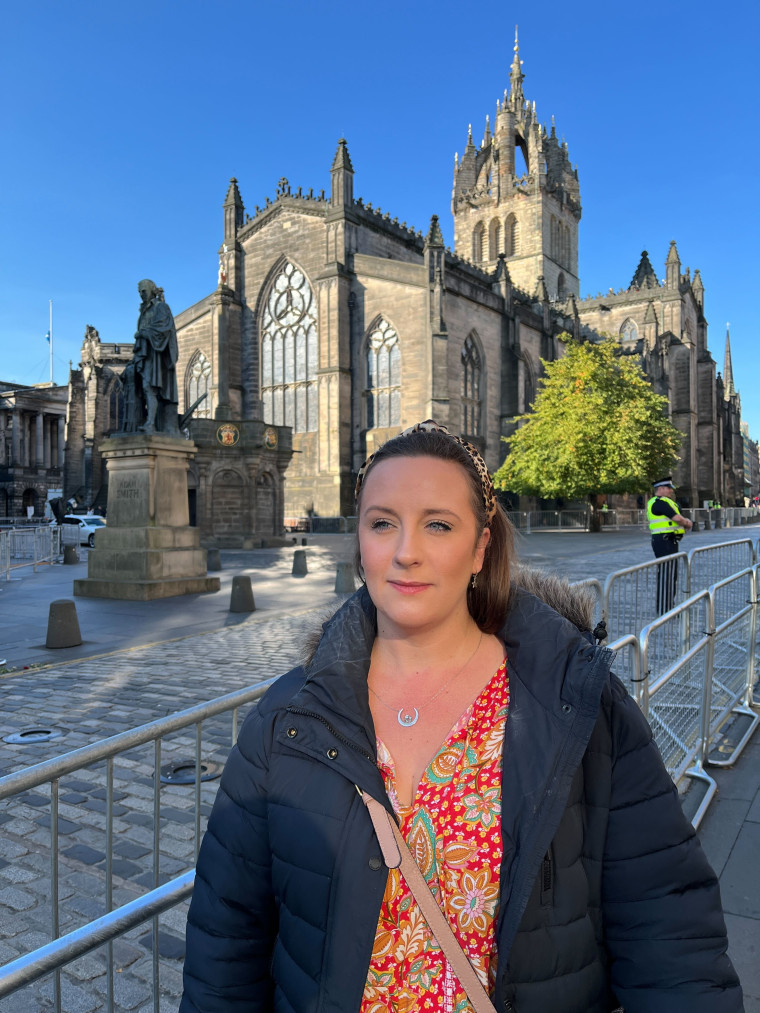 "Actually, seeing her in there just makes it…so real," the mourner says
Charlotte Morrison was one of the few mourners emerging from St. Giles Cathedral wiping away tears.
"I was sad about it, but actually seeing her in there makes it so… real," said Morrison, 20, from Aberdeen but studying at Edinburgh University.
"I wasn't sure if I should come down, but my mum phoned me and said there weren't too many people on TV and urged me to go. I didn't think I would get emotional, sorry," she added through more tears. "I just feel like we all knew her."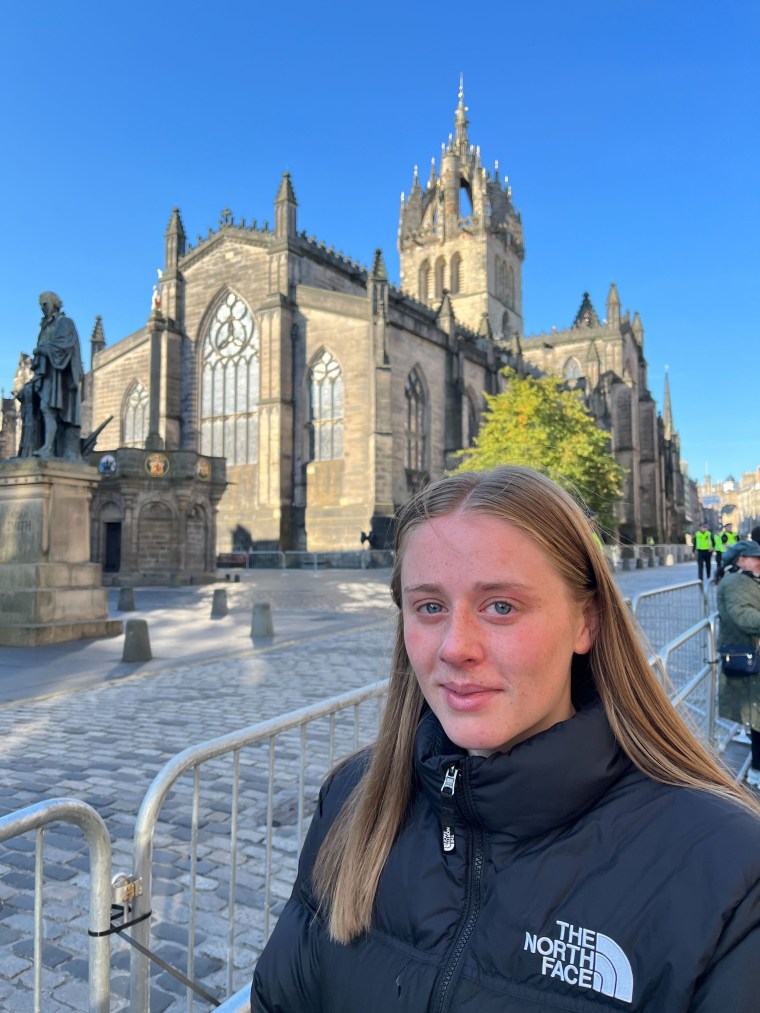 Inside St. Giles Cathedral, an ethereal stillness as crowds file by
Inside the cathedral there was an ethereal stillness, its high vaulted ceilings bathed in soft golden light from the stained glass windows of this 14th-century building.
Only about 20 visitors were allowed in at a time, the only sounds being the echo of their slow footsteps on the building's flagstone floor, occasionally punctuated by the beep of a security guard's radio.
Unlike outside, where all police and security wear high-visibility jackets, here they all wear black jackets and ties, with officers closest to the coffin wearing white gloves.
The coffin itself was draped with the Royal Standard of Scotland and had a Balmoral Crown and the Crown of Scotland placed upon it.
Around him were four members of the Royal Company of Archers, the monarch's ceremonial bodyguard in Scotland. They faced the coffin with their heads bowed and both hands on their longbows.
Papua New Guinea proclaims King Charles head of state
Papua New Guinea proclaimed King Charles as head of state on Tuesday, in a ceremony that also honored the late queen in its capital Port Moresby.
"Reflecting the life she has lived, the exemplary discharge of her duties as Head of State of Papua New Guinea, it is against this backdrop that we all gather here this morning to recognize his passing and to recognize and witness the ascension to the throne of King Charles III," Prime Minister James Marape said.
Marape is expected to meet the king with other world leaders on Friday, according to local media. The British crown also rules five other Pacific states: Australia, New Zealand, Solomon Islands and Tuvalu.
Crowds continue to line up in Edinburgh to pay their last respects
Under crisp, clear autumn skies, crowds began to line up again outside St. Giles Cathedral in Edinburgh on Tuesday morning to pay their last respects to the Queen, who rests there for 24 hours.
Just after 8:30 a.m. (3:30 a.m. ET), the scene was less busy than Monday night, when some people said they waited six hours in lines more than a mile long. However, the line still stretched for several blocks, with a steward saying some mourners could face a wait of nearly two hours.
"It's a historic opportunity," said Jeremy Maiden, 60, who had just viewed the coffin with his wife Jessica, also 60. "It was very quiet, very peaceful. I urge everyone to go now before it gets busy – it won't happen again.
The Queen's coffin will be moved to Buckingham Palace
Queen Elizabeth's coffin will be transported from St. Giles Cathedral by car to Edinburgh Airport before being flown to London on Tuesday.
A state hearse will then take the Queen's coffin to Buckingham Palace, where mourners continued to gather to pay their respects.
Meanwhile, the King will travel to Belfast, Northern Ireland, to meet dignitaries and attend a prayer service at St Anne's Cathedral before returning to London.