September 18, 2022, 09:00 | Updated: September 18, 2022, 09:50
US President Joe Biden has arrived in the UK with other world leaders for his visit to the Queen's funeral.
Air Force One landed at Stansted Airport just before 10 p.m.
President Biden and his wife, Jill, were greeted with a small party as they stepped off the plane at Stansted Airport.
The group included Jane Hartley, US Ambassador to the UK, and Jennifer Tolhurst, Lord Lieutenant of Essex.
Read more: Queue enters last full day – with 12 hour wait – before minutes of silence at 8pm
Read more: William leads Queen's grandchildren in poignant vigil past her coffin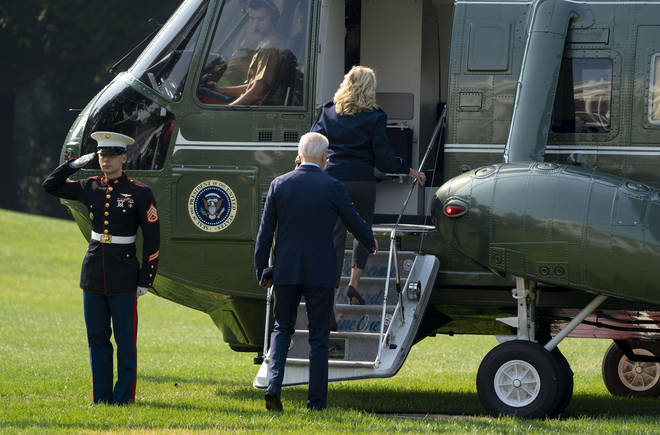 The president and first lady left the United States just hours after Japanese Emperor Naruhito and Empress Masako arrived in London on a first-class flight. They will travel on a bus with other dignitaries, but the Bidens were granted an exception to use "The Beast," the president's armored limo.
Canadian Prime Minister Justin Trudeau, Australian Prime Minister Anthony Albanese and Antigua and Barbuda Prime Minister Gaston Browne are among world leaders who have already arrived in London.
Read more: Record 4.1 billion people expected to attend Queen's funeral with 2 million people expected to flock to the capital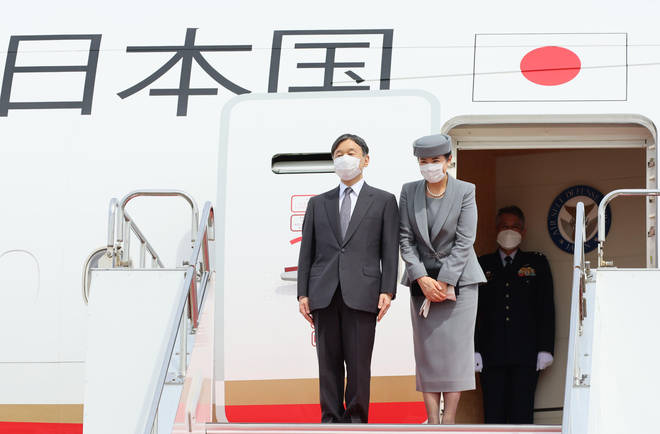 New Zealand Prime Minister Jacinda Ardern was one of the first world leaders to pay her respects in London on Friday. Bangladeshi Prime Minister Sheikh Hasina landed on Thursday afternoon.
The arrivals come as two million mourners prepare to descend on London for the Queen's funeral.
It is expected to be the highest-attended event in British history and the most-watched TV broadcast of all time, with estimated audience figures of over 4 billion people.
It will also see one of the biggest transport operations ever in the UK, as mourners descend on London.
TfL said it was preparing for a million more people to visit the capital.
Around 250 additional rail services will operate and National Highways has suspended all planned motorway closures across England.
There are fears the transport network could be overwhelmed if too many visitors to the capital try to leave all at once when service ends immediately after noon tomorrow. People are advised to try to delay their return journey if possible.
As hundreds of dignitaries from around the world descend on London to pay their respects to the Queen, Liz Truss is due to meet three other world leaders, including her Irish counterpart.
The talks may be informal, described by No 10 as talks rather than formal bilateral sessions, but the Prime Minister's meeting with Taoiseach Micheal Martin comes amid political tensions over post-Brexit trade deals.
She was due to meet Mr Joe Biden, but the talks were canceled on Saturday, with a "full bilateral meeting" scheduled instead for Wednesday, when they are due to be held in New York for the UN General Assembly.
Besides Mr Martin, Ms Truss will meet Canadian Prime Minister Justin Trudeau and Polish President Andrzej Duda in Downing Street on Sunday.
The weekend talks with world leaders are framed by the No 10 as conversations to offer condolences over the Queen's death, at which politics are likely to be discussed.
Mr Martin has briefly met Ms Truss in person since she became Prime Minister earlier this month.
They sat next to each other at a memorial service for the Queen at St Anne's Cathedral in Belfast on Tuesday.
The meeting with Mr Martin comes as Britain is expected to push forward legislation to give ministers the power to scrap parts of the Northern Ireland Protocol, which was jointly agreed by the UK and EU in order to avoid a hard border on the island of Ireland. .
The EU and Ireland say Britain's decision to unilaterally revise the post-Brexit treaty would violate international law.
The issue is expected to escalate ahead of the late October deadline to form a new Northern Ireland executive, which the DUP has so far blocked in protest at the protocol.
The Prime Minister kicked off his meetings with world leaders on Saturday, addressing his New Zealand and Australian counterparts.
The talks took place at the government's country residence in Chevening, rather than Checkers, which is said to be undergoing routine maintenance after Boris Johnson leaves.
Ms Truss will also have an audience with the King at Buckingham Palace on Sunday, before attending his reception for visiting heads of state.
At 8 p.m., she will observe a minute's silence with the country to mourn the Queen's death and reflect on her life and legacy.
People were invited to mark the occasion privately at home, on their doorsteps or on the streets, or at community events and vigils.